The holidays are here! This is the Ultimate Guide to celebrating the holidays in Round Rock (and beyond).
Round Rock Events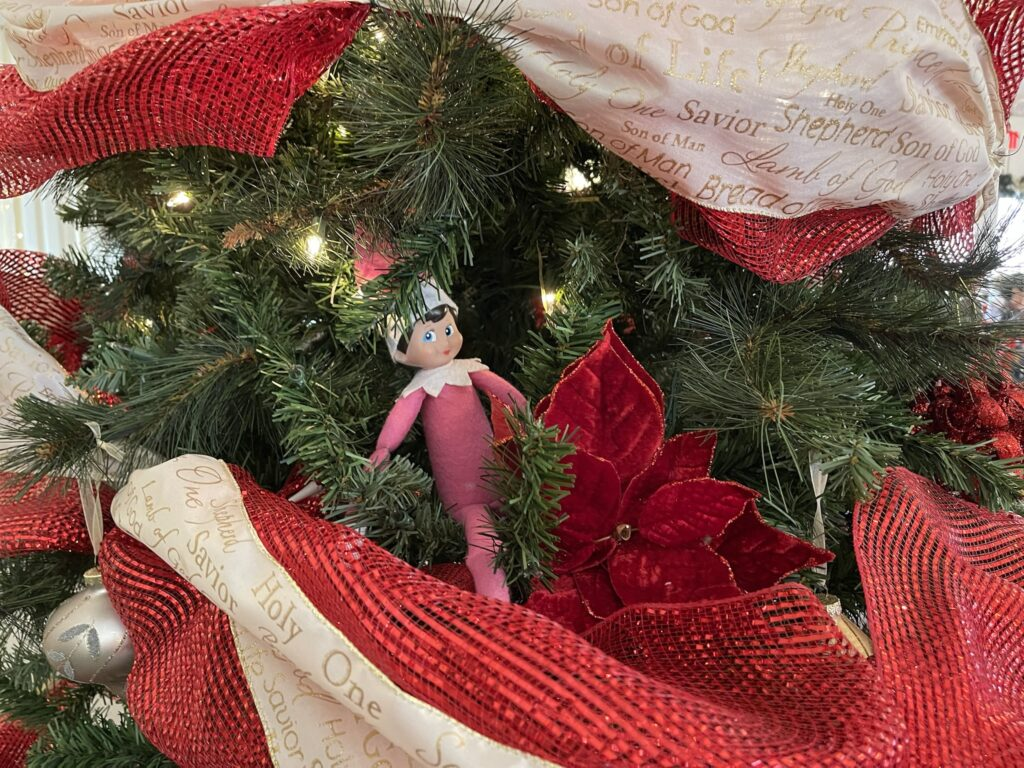 Santa's Jingle House has so many cute and fun events for kids during the holidays. One of our favorites is the Holiday Bingo, Elf Scavenger Hunt & S'mores or just the plain Elf Scavenger Hunt. Get some treats and hunt for elves! We have done this several times over the years, and my kids have a blast each time. Even my 13 year old loved it last year, and said he wants to go back this year! Tickets required. 8 Chisholm Trail, Round Rock.
Hometown Holidays happens when they decorate all of downtown Round Rock and it is honestly extremely charming and impressive. We love wandering around with all the lights displays and giant tree downtown. All December long. Holiday sounds will fill the air with nightly live music Tuesday-Saturday, Nov. 30-Dec. 23. Enjoy full bands in Prete Plaza on Wednesday nights or more intimate acoustic musicians in the parklets Tuesdays, Thursdays, Fridays and Saturdays. Check out the lineup here.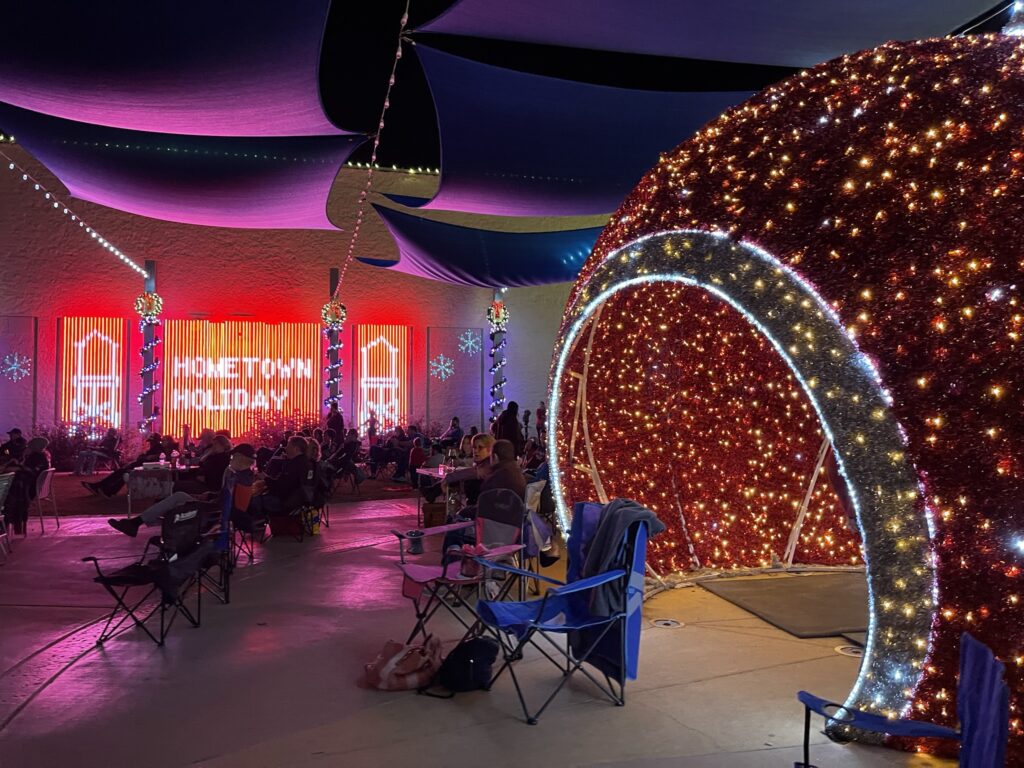 Light Up The Lake in Round Rock is on December 2 & 3, 2022 at 6 p.m. FREE! 2-day holiday festival around the lake and festival area. Giant balloons hovering over the lake, light show, live music, holiday displays, holiday food and refreshments, crafts, family activities, yule log, and more! Old Settlers Park, 3300 E Palm Valley Blvd, Round Rock.
Bass Pro in Round Rock has our favorite Santa. They have a reservation system which cuts down on wait times, and the kids love seeing the holiday decorations and toy displays while we wait. The pictures are free (you get a free 4×6 photo and can choose to order more). We also love to go bowling at Uncle Buck's after the pictures are done. November 5 – December 24, 2022. 200 Bass Pro Dr, Round Rock.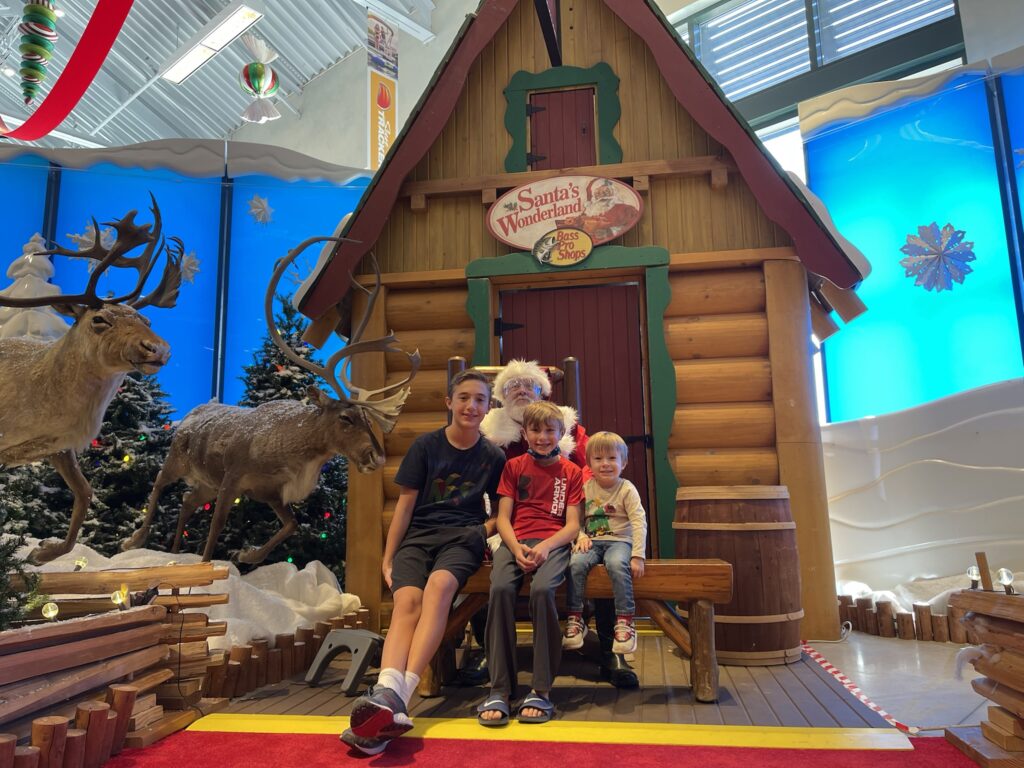 Santa will be taking pictures at the Round Rock Outlets beginning on November 25, 2022 (times vary). Make reservations here. 4401 N Interstate Hwy 35, Round Rock.
Adaptive & Inclusive Winter Wonderland at Rabb House on December 9, 2022 from 6-8 p.m. Fun, themed dance for individuals with disabilities. Come dance the night away with dress up contests, dance contests, socialize with friends, enjoy snacks, and make fun memories! Ages 15 and older with disabilities. 151 N. A.W. Grimes
Christmas Dreams & Snowy Things at Chasco Family YMCA on December 10 from 10 a.m. – 4 p.m. There will be "real snow" activities, a giant slide, games, interactive holiday booths, food, music, and more! FREE! There will be NO parking available at the CHASCO Family YMCA on the day of the event. Shuttle Parking will be available at Central Beauty School on Mays, Starry Parking Lot, and First United Methodist Church. Additional parking is available at the sports fields (no shuttle services).
Austin Events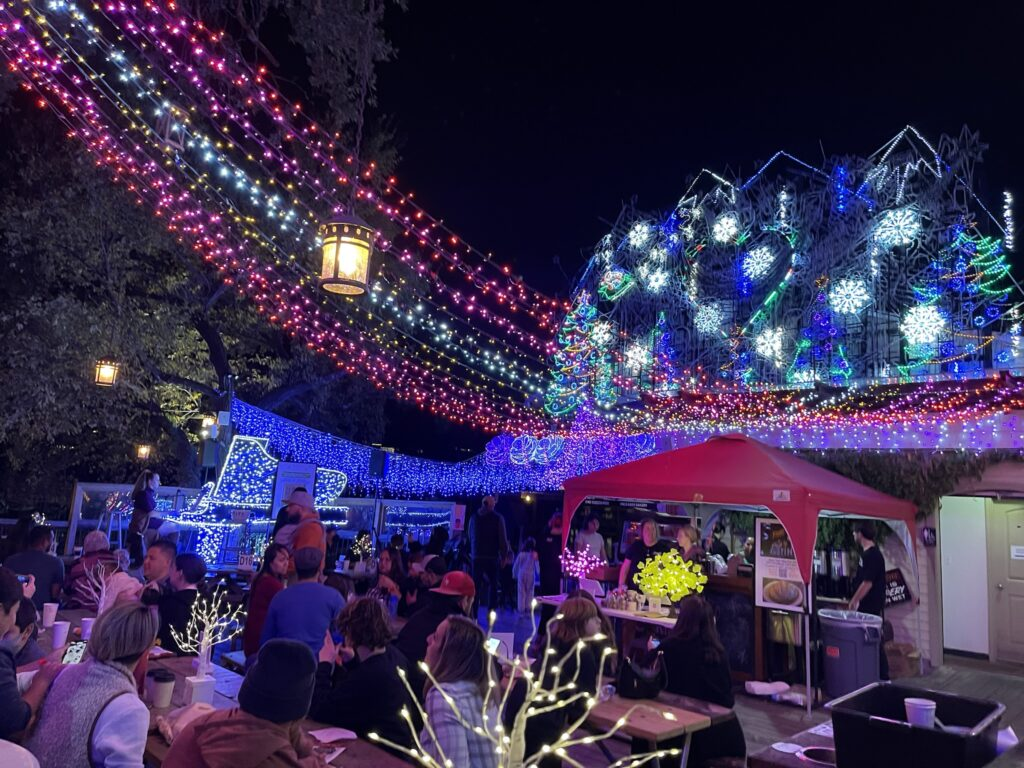 Mozart's has one of our favorite lights displays in Austin. You can see it for free, or pay to reserve a table. November 10, 2022 – January 6, 2023 at 3825 Lake Austin Blvd, Austin.
Go ice skating at Hill Country Galleria Bee Cave on Ice.
Museum of Ice Cream's annual Pinkmas celebration kicks off Thursday, November 17, 2022 and runs through Monday, January 9, 2023. Visitors will add a little sprinkle of joy to their holiday as they embark on a magical journey across 12 multi-sensory installations filled with delicious treats, festive crafts, a larger-than-life snow globe, and much more! The Pinkmas experience will be filled with interactive moments and limited-time activations as guests sprinkle all the way through MOIC's Pinkmas tree forest, build a take-home paper gingerbread house, and sample all the flavors that celebrate the spirit of the season.
Ice Rodeo at the Four Seasons is Nov 19, 2022 – Jan 8, 2023. Skate under the stars and overlooking Lady Bird Lake at the Four Seasons outdoor skating rink. Fire pits, s'mores, and cabins available as well. 4-10 p.m. daily. Admission + skate rental is $35/person.
Hogwarts is in South Austin! The display should be up and running by Thanksgiving 2022 and theme is the Yule Ball, with floating stars and crystal icicles. The light show begins at dusk and continue every half hour until 8:30 p.m. on weekdays and 9:30 on Saturday and Sunday. Slaughter Lane and Bungalow in South Austin.
Blue Genie Art Bazaar is November 18 – December 24, 2022 from 10 a.m. – 10 p.m. (10 a.m. – 6 p.m. on Christmas Eve). 6100 Airport Blvd., Austin
Peppermint Parkway at COTA November 25 – December 30, 2022. Drive-thru lights display at the Circuit of the Americas. The inflatable Santas always make us laugh! 9201 Circuit of the Americas Blvd, Austin.
Santa on the Terrace at the Long Center from 12-4 p.m. Free family photos with Santa in his signature sleigh, with iconic skyline background (pets welcome!), a holiday vendor market, kids' reading circle with Mrs. Claus, Kiddie Express Train rides, live music, giveaways, food trucks, and a life-sized photo frame for "elfies,". 701 W. Riverside Dr., Austin
Zilker Holiday Tree Lighting Ceremony is on Nov 27, 2022 at 6 p.m. (music starts at 5:30). Local entertainment, food, novelties, and live music at Zilker Park, 2100 Barton Springs Road (on the south side of the park).
The Driskill will kick-off the holiday season with a Tree Lighting ceremony, accompanied by live music and cocktails, on December 1st, 2022 at 6 p.m. in the lobby.
Austin Motel will have a free Winter Wanderland experience where you can wander through their uniquely decorated trees. All ages, no fee. December 1-26, 2022.
Downtown Holiday Stroll and Capitol Tree Lighting- Celebrate the holidays downtown Austin with live music, carol singing, and much more—including the downtown tree lighting. This year's Holiday Stroll in Austin will take place on Saturday, December 3, 2022 with the traditional Sing-Along and downtown tree lighting. 1100 Congress Ave, Austin.
Foodie Kids is holding festive gingerbread house holiday workshops where they provide the houses, frostings, candies, edible glitter, and everything else needed to decorate the house of your dreams! The cost is $45 a house and includes hot chocolate- no more than two decorators/watching family members per house. Dates are Dec 3, 10, 17, 22 and 23, 2022. 3818 Far W Blvd #107, Austin.
Austin Trail of Lights is an Austin institution and a must-do (at least once)! We're so excited that you can walk through it again this year! See the lights, meet Santa, and ride the ferris wheel! The 58th annual Austin Trail of Lights is returning to Zilker Park on December 8-23, 2022. Tickets here. 2207 Lou Neff Rd, Austin.
Luminary Festival at Wells Branch is a tranquil and unique community tradition for the entire family. The trails around Katherine Fleischer Park are lined with over 1500 traditional paper luminarias. Both Friday and Saturday evenings the park come alive and the trails twinkle. Luminary Festival will be at Katherine Fleischer Park on December 9 and 10, 2022 from 6-9 pm. 2106 Klattenhoff Dr, Austin.
37th Street has been displaying the weirdest lights in town since the 1980s. The community on 37th is eager to continue the tradition with quirky displays at 37th and Guadalupe, near Dominos and Groovy Lube.
Teddy Bear Brunch at Four Seasons on December 10 and 17, each brunch will feature a lavish spread of festive food and drink, visits with Santa and whimsical teddy bear decor that will delight the imaginations of kids of all ages. Guests are asked to bring a new, unwrapped teddy bear or children's toy as a donation to a local non-profit. For reservations, please call +1 (512) 478-4500. USD 85 per adult and USD 50 per child.
The Austin Allies Annual Holiday Helpers Party is just around the corner! This is a perfect way to volunteer as a family during the holidays! It's a morning full of wrapping gifts , creating Holiday cards , sipping hot cocoa , decorating cookies , photos with Santa , live portraits with Gigglebox , raffle items (score those last-minute gifts you still need!) and much more! Saturday, December 10 from 10 a.m. – 1 p.m.
Santa will be taking pictures at Lakeline Mall beginning November 11 (times vary). Make reservations here. 11200 Lakeline Mall Dr, Cedar Park.
Santa will be taking pictures at the Domain beginning on November 17 (times vary). Make reservations here. 11410 Century Oaks Terrace, Austin.
See Santa at Pikopye's Town! They sell out quickly every year, so reserve your spots quickly! If you don't get a time slot you want, they may be adding more dates, so keep checking back. Make reservations here. 2919 Menchaca Rd Suite 205, Austin.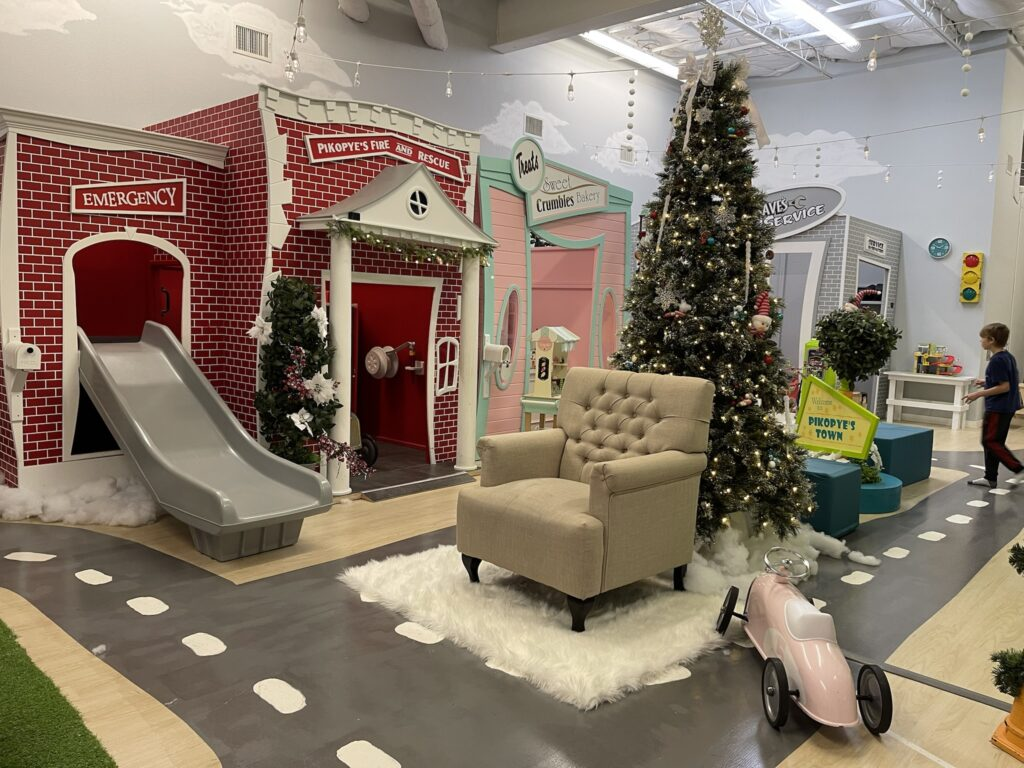 ZACH's singular adaptation of Dickens' A Christmas Carol is a musical sleigh ride through rhythm and time, infusing the traditional Victorian story with a score that spans all genres and eras. This family-friendly spectacular creates an infectious spirit that has everyone dancing in the aisles. Celebrate the season with the loving Cratchit family and three soulful ghosts as they take Ebenezer Scrooge on a joyride to rediscover his heart and love for human kindness. November 16-December 31, 2022. 202 S Lamar Blvd, Austin.
Join the Austin Chamber Music Center for a live concert of all of your favorite tunes from the holiday classic! Celebrate the season with the original Charlie Brown music of Vince Guaraldi. December 3, 2022 at 12 p.m., 3:30 p.m. and 7 p.m. at the Paramount Theater, 713 Congress Ave, Austin.
Ballet Austin's The Nutcracker is on December 3-23, 2022. The Long Center, 701 W Riverside Dr, Austin
In 1969 volunteers organized a bake sale to save the hotel from demolition, and because of their efforts, the hotel is still standing today. Cookies for Caring continues the tradition of The Driskill's beloved baked sales, and raises funds for the Austin American-Statesman's Season for Caring. The pickup event will be held on Wednesday, December 14th, from 3-6 p.m. Cookies tins will be available for purchase here beginning November 14th, 2022. All profits will go to Austin American-Statesman Season for Caring families.
Armadillo Christmas Bazaar is an art fair, music festival, and shopping experience all wrapped up in a pretty little bow! December 17-23, 2022 from 11 a.m. – 8:30 p.m. outside the Palmer Events Center, 900 Barton Springs Rd, Austin.
Tuba Christmas is on December 23, 2022 at noon. 200 Tuba, Euphonium, and Baritone players performing traditional Christmas music on the south steps of the Texas Capitol Building in Austin, Texas. FREE!
Cedar Park Events
Heritage Park in Cedar Park Tree Lighting Ceremony: snow hill, snow playing area, games & prizes, crafts, photos with Santa, yule fire, live music, inflatables & food concessions. Friday, December 2, 2022. Heritage Oak Park, 875 Quest Parkway, Cedar Park.
Cirque Musica Holiday Wonderland is showing at the H-E-B Center in Cedar Park on December 24, 2022 at 2 p.m. 2100 Ave of the Stars, Cedar Park
Pflugerville Events
The Pfestival of Lights and Christmas Parade returns on December 3, 2022 with a 4 p.m. parade, tree lighting and Santa!
Georgetown Events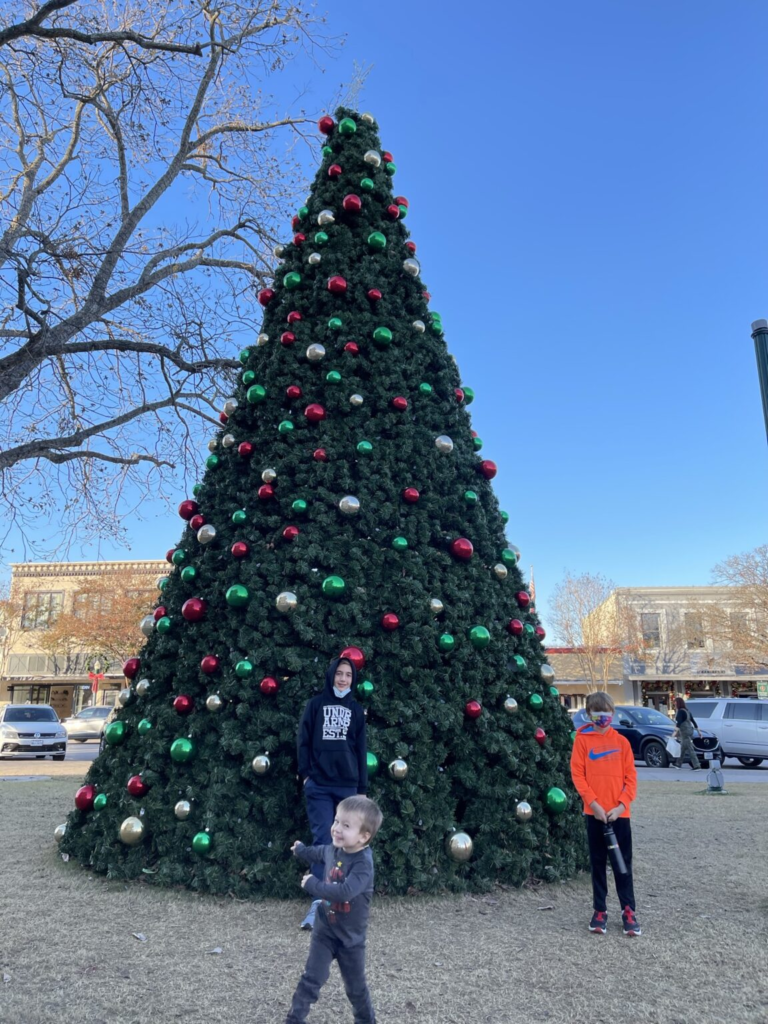 On November 25, kick-off the holiday season at the annual Lighting of the Square in Georgetown, traditionally held at 5:30 p.m. the Friday after Thanksgiving. The downtown holiday lights will remain lit every evening through January 1. FREE! 103 W 7th St, Georgetown.
Sweet Eats Fruit Farm has Santa on the weekends and live reindeer every day! Santa and his real live reindeer are coming to Sweet Eats Adventure Farm! Santa will be there every weekend beginning on Black Friday (11/25/22) from 10 a.m. – 6 p.m. and his reindeer are there every single day from 9 a.m. – 6 p.m.! You can take your own photos with Santa just by having a General Admission ticket which also grants you full access to over 30 different activities that are included. Apple Cannons, Pig races, pony rides, giant petting zoo, hay maze, jump pads, treasure mountain, pipe races, and so much more! There are so many photo ops as well, including a giant walk-thru Gingerbread House and more. November 26- December 31, 2021. 14400 E. State Highway 29 Georgetown.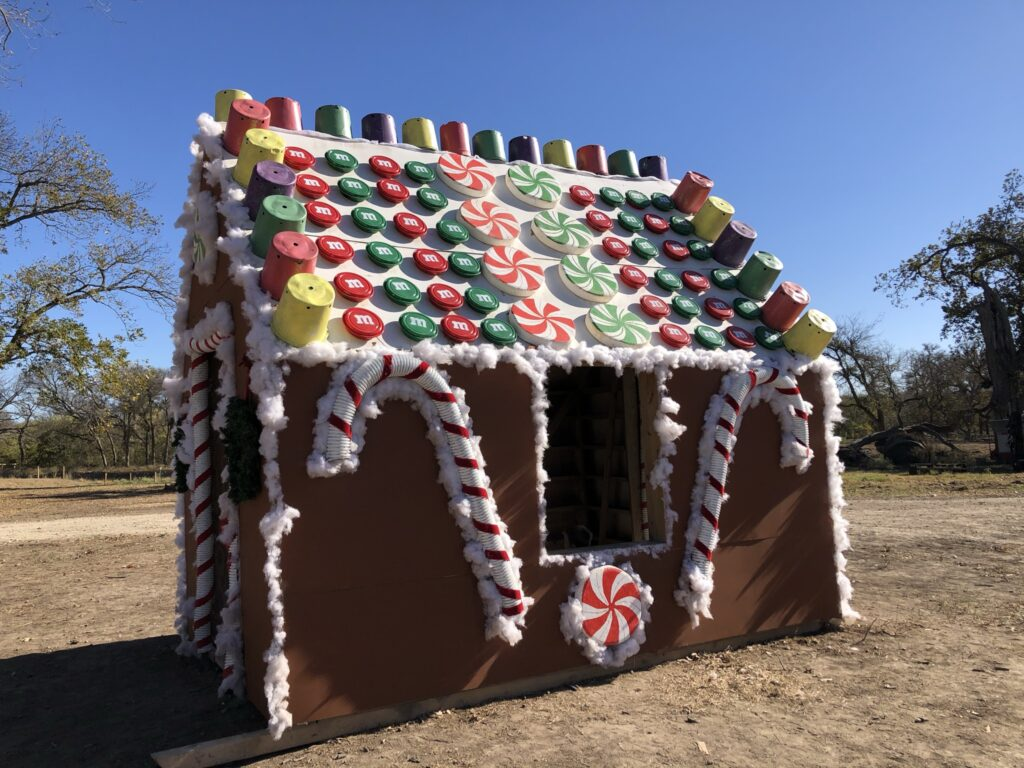 Annual Georgetown Christmas Stroll is 5-9 p.m. on December 2, 2022 and 10 a.m. – 8 p.m. on December 3, 2022 in historic downtown Georgetown. Parade (on Saturday at 10 a.m.), shopping, Bethlehem Village (live manger), Santa photos, dessert with the Grinch, and more! 103 W 7th St, Georgetown.
Breakfast with Santa at San Gabriel Park is December 17, 2022 from 7:30-11 a.m. 445 E Morrow St, Georgetown.
The Georgetown Palace Theater in Georgetown is showing Holiday Inn on November 18-December 30, 2022. They also have A Tuna Christmas showing on December 2-30, 2022. 810 S Austin Ave, Georgetown.
Out of Town Events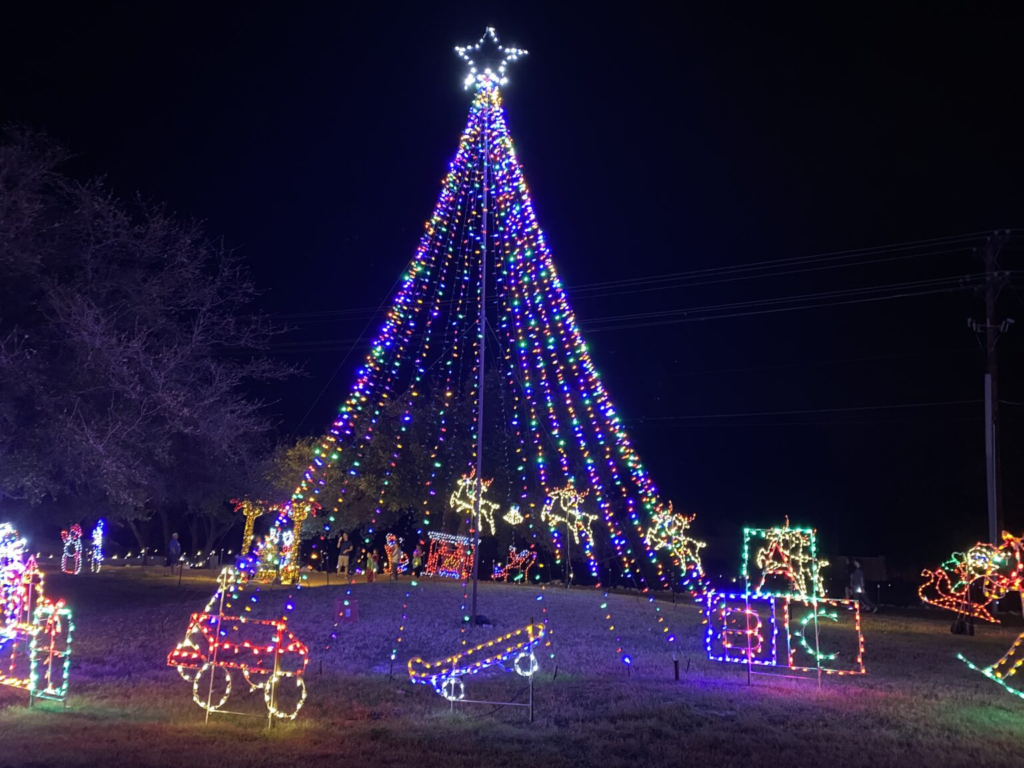 If you're up for a day trip, there are some magical places you can visit this holiday season.
Lakeway Trail of Lights is December 2, 2022 through January 2, 2023 from 6:00 p.m. to midnight. One of Lakeway's most cherished traditions is the Trail of Lights! Access the trail from the lower level of the parking lot at the Lakeway Activity Center (105 Cross Creek) or by parking behind City Hall (1102 Lohman's Crossing at the corner of Lohman's and Sailmaster). FREE!
The Little Longhorn is opening up for trees! This isn't a cut-your-own experience, but they will have some fun experiences lined up for a magical tree picking time!
Cut down your own Christmas tree! When you arrive at Elgin Christmas Tree Farm, you will be given a tag (once you cut and find your perfect tree) you will cut it then tag it (keep the other part). A nice hayride will take you out to the cutting fields so you can begin your search. Someone will pick your tree up once you cut it, your tree will be shaken and baled and ready for its ride home. Trees cost $15 a foot (min price is $30). November 25-December 9, 2022. 120 Natures Way, Elgin.
You can also cut down your own tree at Evergreen Christmas Tree Farm. You take a wagon ride out to the field where you can cut your own Texas-grown Christmas tree or pick a precut Noble fir or Fraser fir. Trees are available November 25, 2022 until they sell out. 242 Monkey Rd, Elgin.
Santa's Wonderland is November 11 – December 30, 2022. Visit the largest outdoor Christmas attraction in the South! Located in College Station, TX, spend an unforgettable evening outdoors celebrating the holidays Texas-style with REAL snow, ice skating & more.18898 Hwy 6, College Station.
Santa's Ranch in New Braunfels lets you drive-thru over 1 million lights and 100 displays! November 11, 2022 – January 1, 2023 at 9561, I-35 North, New Braunfels.
Marble Falls Walkway of Lights is November 18 – December 31, 2022. Open nightly from 6-10 p.m. till January 1st, The Walkway of Lights displays 2 million lights in Lakeside Park and over 350+ lighted sculptures. FREE! 305 Buena Vista Dr, Marble Falls.
Johnson City Lights is a light display with over a million lights. And it's so big, NASA reported seeing it from the International Space Station! Yes, that would be the Johnson City Texas Lights Spectacular. From November 25, 2022 to January 8, 2023, you and your family can see this incredible lights display for free. Park against the courthouse or around downtown streets in areas that allow parking. 101 E Pecan Dr, Johnson City.
Bastrop River of Lights has numerous lighted displays in a variety of seasonal themes lining Bastrop's scenic June Hill Pape River Walk. To access this free one-half mile promenade, come down the stairs west of the intersection of Main and Pine Streets or select the fully accessible entrance at Fishermans Park on Farm Street. November 25, 2022 – January 3, 2022.
North Pole Flyer is on weekends November 26 – December 18, 2022. Tickets are $45-65 and you can get them here. Kids 3 and under can sit on a lap for free. Hot chocolate, a story performance, and meet Santa! This ride is 2 hours and departs from Bertam, 100 W State Hwy 29, Bertram.
Sights & Sounds of Christmas in San Marcos is December 1-3, 2022, and again December 8-10, 2022. 401 E Hopkins St, San Marcos.
Main Street Bethlehem in Burnet This Christmas, visit Bethlehem in Burnet Texas as the ancient city of Christ's birth comes alive again. No tickets required. December 2nd, 3rd, 4th, 9th, 10th, 11th, 2022 from 6-9 p.m. Main Street Bethlehem is located two blocks east of the town square. 300 E Washington St., Burnet.
Budafest has live music, a craft and art market, parade, fireworks show along Main Street, and more. December 2-4, 2022 at 880 Main St, Buda.
Old Town Christmas Festival in Leander December 3, 2022 at This event includes a 5K race (Old Town Rudolph Run), parade, movie, s'mores, shopping, live music, tree lighting, Santa sighting (no up close pictures), and more.
Liberty Hill Christmas Festival December 3, 2022 from 10 a.m. – 3 p.m. in downtown Liberty Hill. Parade, shopping, snow, ice skating, visit with Santa, and more.
Christmas on Mercer in Dripping Springs December 3, 2022 from 10 a.m. – 5 p.m. in downtown Dripping Springs. Shopping our arts and crafts, to visits with Santa, to music and fun, to the tree lighting at dusk. 511 Mercer St, Dripping Springs.