Spring is officially official and we are in the home stretch toward Summer vacation! April features so many fun opportunities to get outdoors with the family and so very, VERY many egg hunts.
Important Note: This list was compiled from community resources; Always check with the organizer/venue to confirm that an event is happening before setting out with the family.
April Events in Round Rock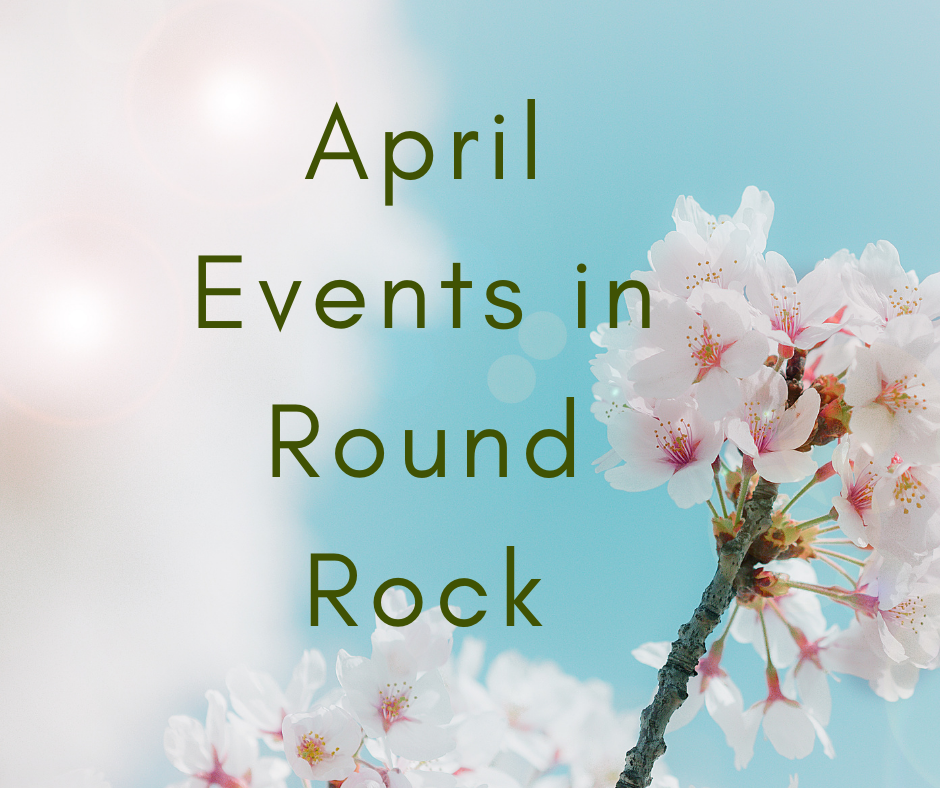 April 2, 9 a.m. – 4 p.m.
Meet your friends for coffee at your favorite downtown RR coffee shop, then stroll over to Prete Plaza to browse interesting and unique offerings from local vendors.
April 2, 10:00am
Brushy Creek MUD Run $10.00 per team
Get some exercise and make some core memories racing through this muddy challenge course! All ages and fitness levels are welcome. There will be a prize awarded to the muddiest family! #goals
April 3 from 2-2:30 p.m. and 3-3:30 p.m.
Meet Pete the Cat! Pete will be at a FREE story time with activities for kids in Prete Plaza (across from the library).
April 5, 7, 12, 14, 19, 21, 26, & 28 11:30 a.m. – 1 p.m.
Music on Main Lunchtime Series FREE!
Every Tuesday and Thursday in April you can listen to live music in the parklets along Main Street.
April 7, 6:30-7:30pm
Green Thumbs Up: Edible Landscaping FREE
Join the Texas Master Gardener Association for this informative presentation about how to landscape your yard with edible plants!
April 9, 10-11:00am
Play For All Special Needs Easter Egg Hunt FREE
A special event for our neighbors with special needs and disabilities and their families, this Easter egg hunt is sponsored by the Round Rock Parks and Rec Department's Adaptive and Inclusive Recreation initiative. Pre-registration is required for each family and this event always sells out, so secure your family's spot soon!
April 9, 1:30pm
Underwater Easter Egg Hunt $4.00 per child
Kids ages six months to ten years can hunt for Easter eggs in the water at this unique Easter egg hunt. Times and guidelines vary based on age group, for more information contact the Brushy Creek MUD Community Center. Pre-registration is required before March 25!
April 11, 4:30-5:15pm
Rockin' Kids Club: Crafternoon for Ages 5-8 FREE
Celebrate Earth Day with crafting! Participants will decorate a pot and plant a sunflower seed.
April 14, 6-10:00pm
Flashlight Egg Hunt + Movie in the Park $5.00 early registration; $7.00 late registration
Bring your own flashlight and an Easter basket and join in the hunt for eggs, treats, and prizes in this popular Springtime event! Pre-registration is required.
April Events in Round Rock
April 23, 9:00am-12:00pm
Join the RR Parks and Recreation department in this fun celebration of community and promoting environmental awareness!
April 23, 10:00am-3:00pm
Round Rock PopUp Art Show FREE
Shop for unique and original artwork by local and area artists! This show features at least twelve artists who work in a variety of mediums. Presented by Round Rock's Arts and Culture department.
April 25, 4:30pm-5:15pm
Rockin' Kids Club: LEGO free-build FREE
Stop by the library to build something fun and amazing with LEGOs. Recommended for ages 5-8 due to the small size of LEGO bricks.
April 26, 6:00pm
Taste of Round Rock $26.00 per ticket (Kids 12 and under are free!)
Sample culinary offerings from a wide variety of area restaurants.
April 30, 8:00-11:00am
Play for All 500 $5.00
Racers of all ages can challenge each other on balance bikes, mini power cars, and wheelchairs. Eligibility varies by age and mobility device – more information is available through Round Rock Parks and Recreation Department.
April 30, 10:00am-3:00pm
Pioneer Day FREE
Experience pioneer-era living history demonstrations, crafts, music and food!
April 30, 12:00pm
Austin Taco & Margarita Festival Prices Vary; Kids 12 and under are FREE w/a paid adult
Celebrate tacos, beer, and margaritas at the brand new Round Rock Amp. Planned events include professional wrestling and special activities for kids.
You might also like: